Restoring Amtrak Service to the Gulf Coast 
Part 2
In our last blog, we discussed the Surface Transportation Board getting ready to hold hearings on restoring Amtrak service to the Gulf Coast. Since Hurricane Katrina hit that region in 2005, the passenger rail service, where the Sunset Limited used to run, has been suspended.
Since then, tracks have been replaced, yet discussions to restore Amtrak service to the Gulf Coast did not begin until the passage of the FAST-ACT of 2015. This act instructed the US Department of Transportation to form a working group assigned to the Southern Rail Commission. The group aimed to estimate investment costs from the government freight railroads and if there would be enough interest from the communities affected to move forward with restoring Amtrak services.
NARVRE or the National Association of Retired and Veteran Railroad Employees members offered help with passing the legislation to pass infrastructure and surface transportation in November of 2021. The CSX and NS railroads have fought the findings by the Southern Rail Commission (SRC). However, the SRC are the federal entity representing Alabama, Mississippi, and Louisiana and are also in charge of the Gulf Coast Trains. CSX/NS filed reports that claimed it would cost $2.3 billion to restore passenger rail service for the Gulf Coast. The SRC argued this was a gross miscalculation, with CSX/NS inflating their numbers tremendously. Even regional news reports stated, "two freight railroads have been waging a bad-faith effort to kill the incredibly popular, fully funded, multi-state effort to restore long-awaited passenger rail service along the Gulf Coast."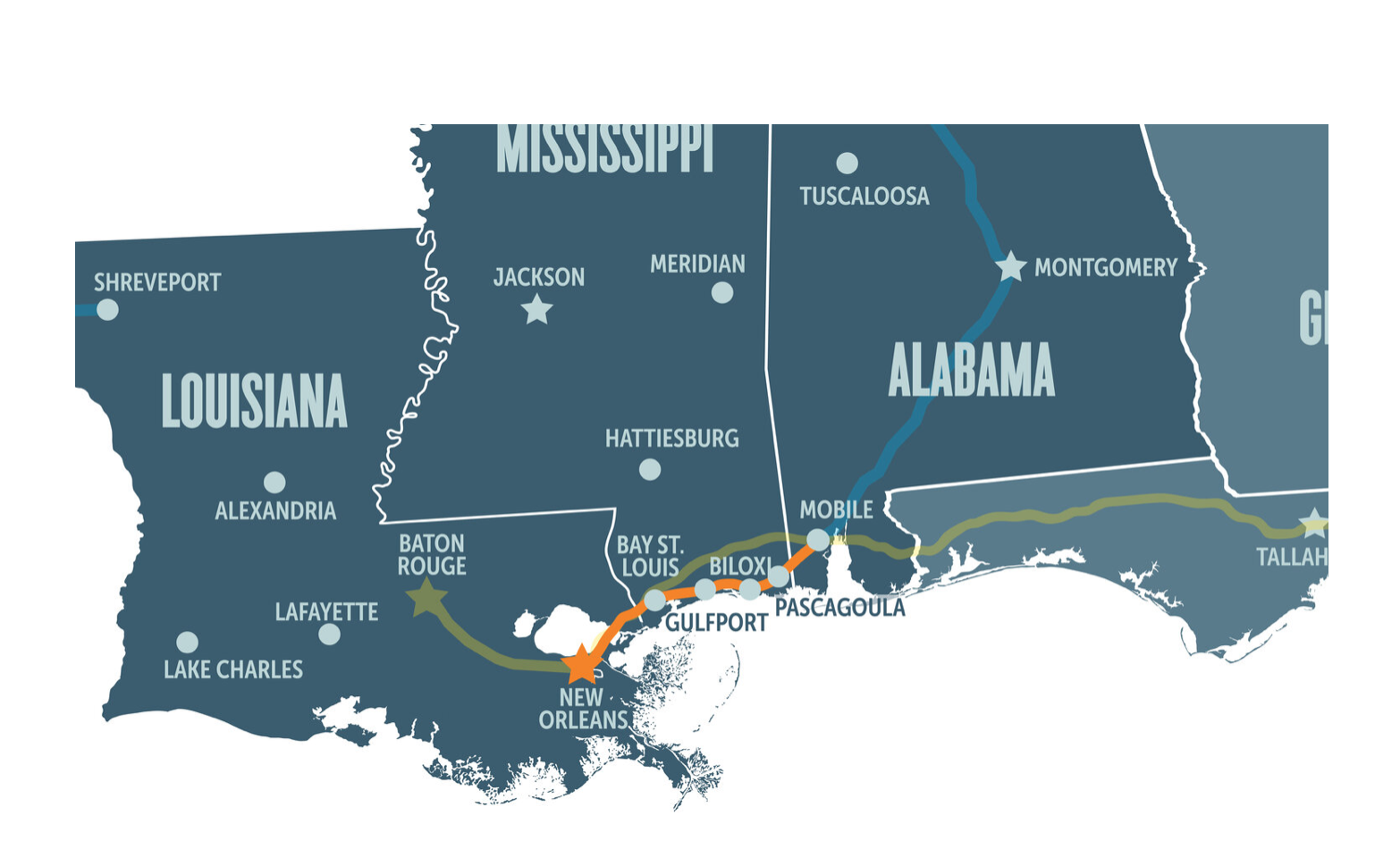 CSX and NS have exaggerated their estimates on the cost of rebuilding. They have filed false information on why adding only two passenger trains per day would "unreasonably impair" their freight operations. It needs to be noted that the trackage on the joint lines was replaced and repaired long ago. Repairs were made with funds provided after the damage from Hurricane Katrina. We have seen the truth exposed in the first phase of hearings. And will have more to come with the evidentiary phase scheduled for March 8-9, 2022.
In 1970 Congress created Amtrak to relieve the burden on freight trains of their obligation to provide passenger rail service. They passed the Rail Passenger Service Act that required a railroad to make tracks available for passenger rail. The law clearly says Amtrak has the right to access freight tracks. It must be understood that the Gulf Coast issue is not the only area for concern. The actions of CSX and NS could disrupt the expansion of rail service throughout the nation. Thankfully, the new Bipartisan Infrastructure Act, which is now the law, is designed to lead passenger rail into the future. This will happen with investment funding that will encourage new connections to new corridors in the future. Unfortunately, two major railroads are worried about what is to come.
Follow NARVRE on Facebook, Gulf Coast travel, NARVRE, NARVRE community, NARVRE Facebook page, NARVRE Membership, NARVRE Membership renewal, NARVRE National convention updates, National Association of Retires and Veteran Railroad Employees, national railroad veterans retirement, railroad retirement plan, Restoring Amtrak Service to the Gulf Coast, Restoring Amtrak Service to the Gulf Coast Part 2