NARVRE Successfully Fights for Funding from the American Rescue Act
National Association Retired and Veterans Railway Employees, Memphis, TN
On March 10, 2021, Congress passed The American Rescue Act. NARVRE Successfully Fights for Funding from the American Rescue Act. The rescue package encompasses emergency funding for several components of our economy. Addressing the needs of people affected by Covid 19.
The Association was focused on how the legislative bill would affect the mission and principles of our association. We found that it did in fact align with our values of supporting the Railroad Retirement System and Railroad Medicare. We would like to thank all our members who also supported the bill by contacting congress concerning the legislation. NARVRE has been working to get Congress to respond to the frustrations from this pandemic. Specifically fund Amtrak while also protecting train service and rail employees.
NARVRE Successfully Fights for Funding from the American Rescue Act
The American Rescue Plan includes 1.7 billion in emergency funding for Amtrak, and includes a congressional mandate that Amtrak return daily service to long distance routes within 90 days (about 3 months) of its being passed, as well as the rehiring of 1,230 rail workers who were involuntarily furloughed due to the pandemic. NARVRE has worked with railroad passenger advocates, community activists, the railroad industry, and rail labor to insist that Congress include specific directives to maintain service on the Amtrak National Network as well as the Northeast Corridor. Additionally, Amtrak CEO Bill Flynn expressed how the funding options of this new rescue bill will expand the Amtrak network and will create thousands of new jobs, creating a win-win scenario as these new employees will be paying into the railroad retirement system.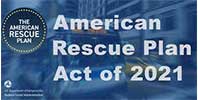 Fortunately, the Railroad Retirement Board successfully made their case, that the pandemic has placed added stress on their employees and operations which was already understaffed prior to Covid 19. Federal funding in the American Rescue Plan will now supply $28 million to help the RRB improve services for railroad beneficiaries. Improve their operations and infrastructure, as well as start once again on the efforts to modernize their IT capabilities. We are incredibly happy to see this funding. NARVRE has worked for years lobbying to supply funds needed by the agency to manage and operate in today's world.
If you are a railroad employee and not yet a member of NARVRE, consider joining us today. Contact us via our website or Facebook to get more information. We will fight for your benefits and keep you informed of any new legislation in Washington D.C. affecting your retirement.
Continue to follow our blog at www.narvre.us
American Rescue Act, Follow NARVRE on Facebook, how to become a member of NARVRE, NARVRE, NARVRE community, NARVRE Facebook page, NARVRE Membership, NARVRE Membership renewal, NARVRE National convention updates