August 2016 Newsletter
By now the Primary Elections are over and as we approach the Congressional and Presidential Elections on Tuesday November 8, we encourage all members to go Vote. While we are a non-partisan organization we want to make sure that we wisely choose people that will stand up for the protection of our Railroad Retirement Pension Annuity. To see how your Representatives vote on senior issues, go to the Alliance for Retired Americans website at http://retiredamericans.org/voting-record/ to see how your Representatives votes on issues affecting seniors. Please keep abreast of the RRB informational meetings taking place and try assigning members of the closest units to attend and man a NARVRE informational table. Although we may not sign up many members, we do expose our organization. Some AREA Directors and Assistant Area Directors are doing a good job attending the Railroad Retirement Board Retiree Informational Meetings. For example, President and Assistant Area 2 Director Jack Bengtson of Grand Rapids, MI of Unit 152 is manning a NARVRE table as he meets many of the future retirees at the Railroad Retirement informational Seminar in Romulus, Michigan. He is also working on chartering a unit in Elkhart, IN. "I spoke individually to about 40 of the 52 attendees and was asked by two of them to speak at their Railroad Union meetings. They are to get in touch with me. There was also a group of CN (former GTW) employees looking to start a unit near Battle Creek, Michigan. I'll let you know how if it works out," said Jack Bengston. I am very proud of his work. Pictured below he is manning the NARVRE Table. Also, he was able to take a photo with RRB Staff as noted below.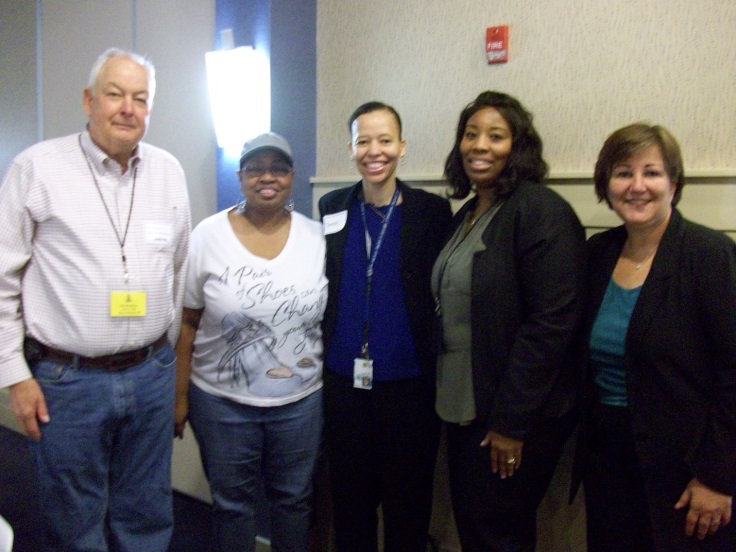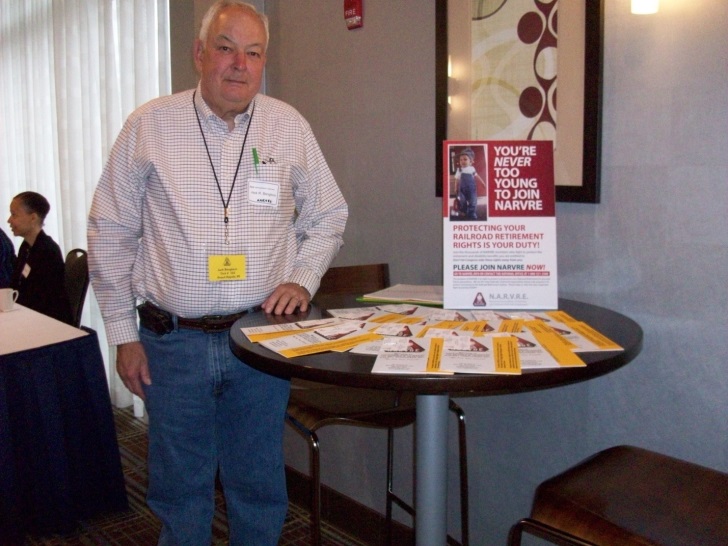 Right: Jack Bengtson, NARVRE Asst. Area 2 Director;  Sheryl Donough, District Manager – Houston;  Teresa Scott-Feijoo, Detroit Claims;  Deanna Smith, District Manager – Detroit; and Mary Ann Tonnemacher, Network Manager – Boston.
Another success story is Area 5 Director G. G. Gonzales was able to reorganize Laredo, Texas Unit 51.  This is a Unit I organized in 2012, but due to sickness the President and Sec-Treasurer were not able to maintain the Unit.  It was in the verge of closing, but both GG and I made a trip to do an informational meeting and we were able garner new members.  He officially reorganized the unit with new officers who are now doing a tremendous job of proudly running the Unit.  "I had a total of 30 people attending the meeting. Pictures from Left to right are Sergio Perez S-T Unit 061 San Antonio, Texas, Gus Meza V-P, Delegate, Gracie Meza, L-R, GG Gonzalez Area 5 Director, Cesar Trevino Pres., and Mike Barerra Sec-Treasurer.  As Director I want to thanks all the officers of Unit 051 for growing their Unit to 28 paying members.  I know it will continue to grow with the help of all officers," said Area 5 Director G. G. Gonzales.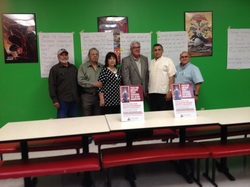 President R. C. Smith invited National VP Tony Padilla to address Unit 77, in Decatur, Ill on July 6, 2016.  It was a pleasure to meet so many well organized members.  I gave the history of the many NARVE challenges we experienced to fight to protect and preserve our Railroad Retirement Pension Annuity, including saving other senior issues as our Social Security which is the Tier II of our Railroad Retirement Pension Annuity, Medicare, Medicaid, and an affordable Health Care.  Some in Congress refer to Social Security and Medicare as entitlements-which are not.  They are Earned Benefits we paid into for our future senior years.  It is not welfare but there are social programs that our employers and we workers paid into.  "We were elated at the good turnout (52) in attendance and we Thank Tony Padilla for coming to speak to our Unit," said President R.C. Smith.  Below, are photos of some of the officers and members.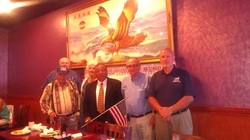 ---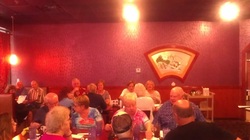 Officers of Unit 77 Dave Hahn-Legislative Rep; Jack McKinney-Registrar; Carol Sincebaugh, Sec-Treasurer; Tony Padilla-National VP; R.C Smith-President of Unit77, and Lloyd Holman UTU Members Reporting on Amtrak. 2.) Unit Group.
Members Bill Stuart and Sam Mahannah,  both retired from CSX(old B&O).2.) On the right Unit Group.