Gary Nelson
Area 4 Director
---
Illinois, Iowa, Minnesota, Missouri, Wisconsin
16087 N ENCHANTED DR. NW
ANDOVER, MN 55304
CELL: 612-247-2704  
EMAIL: garyrnelson@comcast.net 
---
BIO
42 Years of service with GN/BN/BNSF
Past Chairman of the BNSF System Slip Trip Fall Safety Focus Team
Developed Twin City Terminal Work Environment Safety Team
Chaired very successful United Way Campaigns for 20 years.
Involved in and facilitated both safety processes and quality processes
Safety Employee of the Year- Nominated for Harriman Award in Washing D. C
Chairman Award Winner- Burlington Northern Railroad
Burlington Northern, Santa Fe- Hill/Holiday Founders Award
Adviser for City and County of Anoka for upstart of Northstar Commuter Train Service 2009.
Board of Directors Great Northern Railway Historical Society / BNSF Liason/ Motive Power
Assistant Director Area 4- Minnesota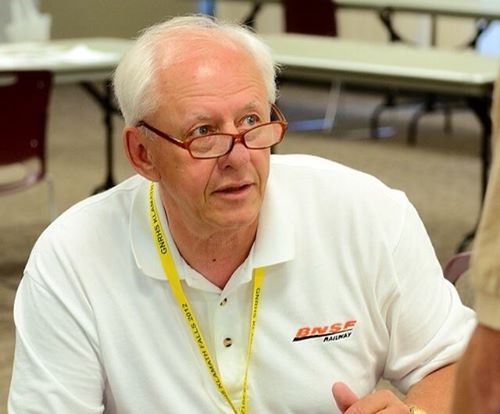 GARY R NELSON- AREA 4 DIRECTOR
Recent Area 4 Director Activities:
On January 15th, 2015 I attended a joint UTU / BLET Holiday meeting in Willmar, MN for the purpose of garnering new members for NARVRE. At the meeting I met with the Secretary Treasurer of the BLET and the local Chairman of the UTU 1177 unit. Amy and Jerry Geurtz have agreed to campaign for new members within the Willmar BNSF terminal which incorporates over 200 active employees and many retirees, some of which are already 801 members.
Future plans this Spring are to establish a informational meeting at Amtrak complex in Chicago.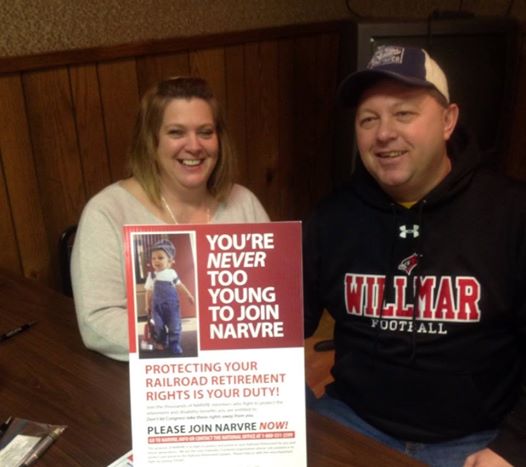 PICTURED LEFT TO RIGHT AMY GEURTZ – SECRETARY TREASURER BLET AND JERRY GEURTZ – LOCAL CHAIRMAN UTU 1177.