UNIT 138 BELEN, NM MEETING SCHEDULED FOR SEPTEMBER 12, 2013
GUEST SPEAKER:
Walt Barrows, Labor Member of the Railroad Retirement Board, Chicago Illinois Main  Office.
Sep. 08 Last day to make reservations for the Belen luncheon.
Please e-mail one of the officers listed below.
Sep. 12 Lunch and meeting at First United Methodist Church, 75
Manzano Expy., Belen, NM (Rio Communities).

Eat at noon, meeting at 1:00 P.M.
Menu:  Pork Loin Roast .
Donation:  $8.50
Reservations are needed.  For assistance contact the President or one of the officers.
The officers of Unit 138:
President, Nancy Lunsford,  e-mail: nlunsford@newmexico.com
Secretary, Ronald Russell, rmrwyaq@yahoo.com
Treasurer, Robert & Twilia Turpen, tft4000@comcast.net
Legislative Representative, Ronald Russell, rmrwyaq@yahoo.com
Chaplain Witt B. Harwell e-mail: bluemamaru@aol.com
---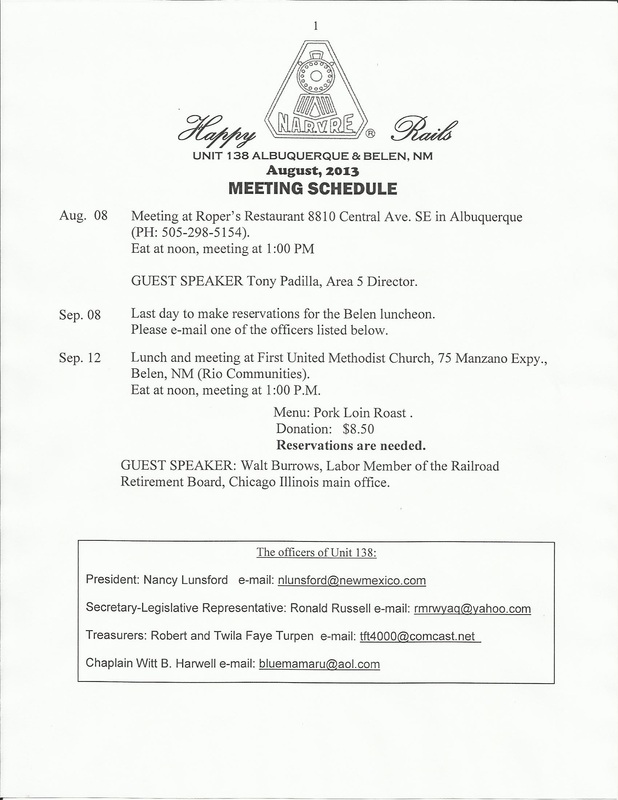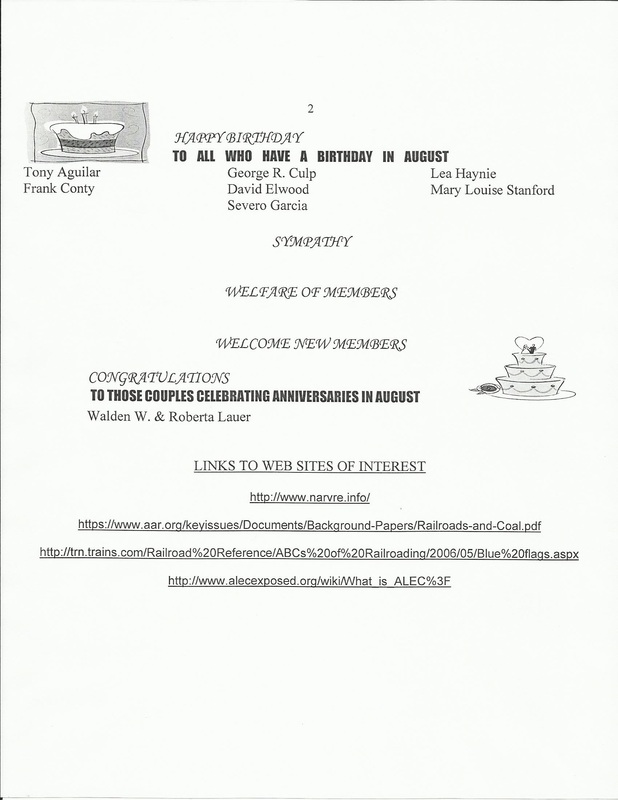 ---
LINKS TO WEB SITES OF INTEREST
https://www.aar.org/keyissues/Documents/Background-Papers/Railroads-and-Coal.pdf
http://trn.trains.com/Railroad%20Reference/ABCs%20of%20Railroading/2006/05/Blue%20flags.aspx
http://www.alecexposed.org/wiki/What_is_ALEC%3F
---