Report of Tony Padilla NARVRE Area 5 Director on organizing a NARVRE Unit in Laredo, Texas April 26, 2013
The meeting was called to order and on time at 10:00am on Friday April 26, 2013 by Whitey Westphal Past President of NARVRE.  He talked about the history of NARVRE since it was founded and about the history from past to moving forward explaining the promotion, protection, preservation of our Railroad Retirement Pension benefits and about all issues affecting our retired members.  He then introduced Area 5 Director Tony Padilla who discussed legislative history of his experience with the rail industry, labor unions and the Railroad Retirement and about current legislation affecting Railroad Retirement, Social Security, Medicaid and the Affordable Care Act and concluded the discussion by asking the group to stay vigilant, stay active, stay informed and speak up to save their Railroad Retirement Pension Annuity.  Tony outlined the NARVRE by-laws points and purpose. There was a very good question and answer session before calling on to the group to form a Laredo NARVRE Unit and motion to action for nominations.
17 members are required to start a Unit. We have 4 single members and 11 couples for a total of 26 members signed and paid up. Nominations were held for temporary officers and were elected as follows:
President – Joe J. Sosa, 10532 Winrock Dr, Laredo, Tx, 78045, H-956-723-9048, C 956-286-4237, E-mail:
jsosa21@stx.rr.com
Vice President – Joe Ruiz, 207 Colorado St, Laredo, TX,78041, 956-722-8714, E-mail: jerjr.28@hotmail.com
Secretary – Manuel Sanchez Jr., 3007 Sabine Plaza Ct, Laredo, TX,78046, 956-726-3268,
mjs24@sbcglobal.net
Treasurer – Mary Lou Sosa, 10532 Winrock Dr, Laredo, Tx, 78045, H-956-723-9048, C 956-286-4237,
E-mail:  jsosa21@stx.rr.com
Legislative Representative – Armando Almanza, 412 Albany Dr, Laredo, TX, 78045, Armando.Almanza@yahoo.com
Congratulations were in order and the meeting was adjourned at 12:30pm April 26, 2013
About  62 people showed up for the meeting.
---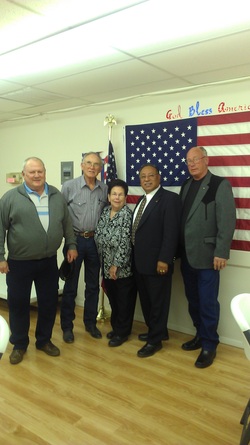 Report of Tony Padilla NARVRE Area 5 Director
representing AR, LA, NM, OK and TX.
Lester Newton Vice President of National NARVRE
also attended. Thursday April 18, 2013.
Both, Tony and Lester were invited to be speakers at the Clovis, New  Mexico NARVRE Unit #136.  The  current President Gene Woodcock moved to Lubbock, Texas on account illness.  Vice President Joe Ward and Secretary-Treasurer Ann Tea were the only officers left and the Unit was in the brink of collapsing.  In our
dialogue to the members we encouraged ways to keep the membership active and  provided information to continue the organization strong.
We recommended a new Legislative Representative that could report on ongoing issues regarding the Railroad Retirement, Social Security, Medicare, Medicaid and health issues.
Because it was announced that we would be there to talk about those issues, 32 members were in attendance and in the course of the meeting a new Legislative Representative was elected.
Many members came to let us know how happy they were to have us there and thanked us for the updates.  The Meeting started at 6:30pm and adjourned at 7:30pm on Thursday April 18,
2013.
Clovis New Mexico Unit # 136 photo from left to right are New Legislative Representative Kenneth Robertson, President Joe Ward, Secretary-Treasurer Ann Tea, Area 5 Director Tony Padilla, and National VP Lester
Newton.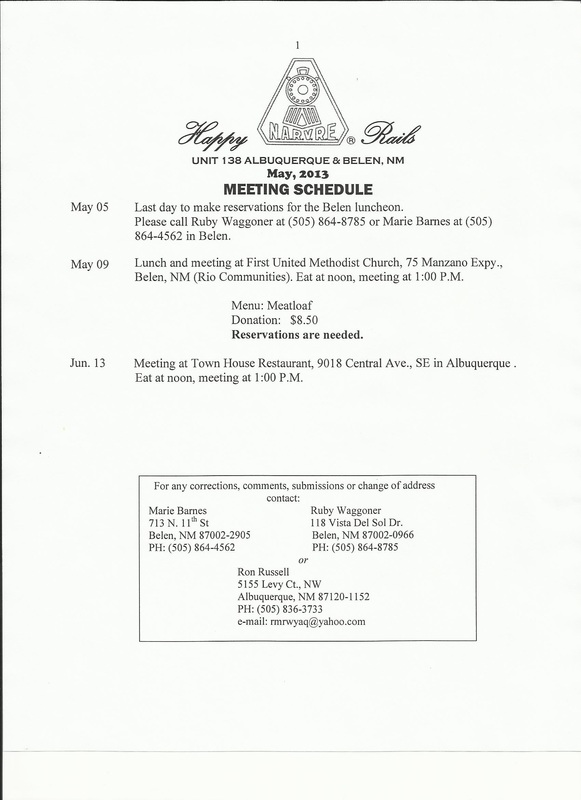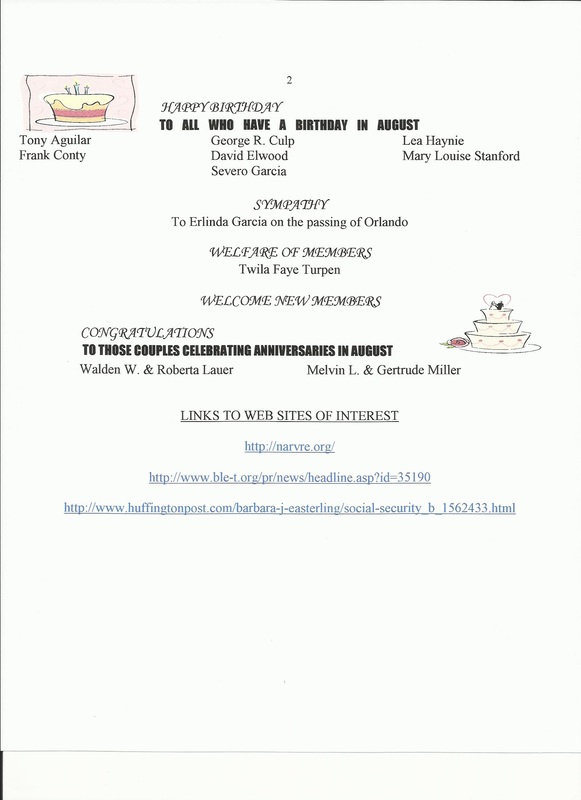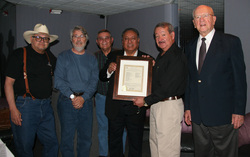 Chartered a new Unit 37 in El Paso, Texas on 3-13-2013.
From Left to right-El Paso NEW officers of Unit 37 Presentation of Charter by NARVRE Area 5 Director Director Tony Padilla on 3-13-2013.  Vice President:  Enrique Suarez,
Secretary Treasurer:  James D Werner,  Legislative Representative:  Albert Napoles, NARVRE
Area 5 Director:  Tony Padilla, President:  Ernesto Mendoza, and NARVRE DLC:  Rep Whitey Westphal from the Law Firm of Will Moody.————————————————-
Tony Padilla's presentation impinged on the importance to protect, promote and preserve our Railroad Retirement Annuity and dwelled on the political action NARVRE members take to let Congress know our views on issues affecting seniors including Social Security, Medicare and Medicaid.  "You, our members, are our ammunition we depend on when it comes to protect those benefits.  In the past we were able to overcome efforts by congress to reduce privatize and weaken our retirement pension we worked so hard for. We continue to work on restoring widows and widowers COLA's we lost in previous congressional years." He said as he congratulated the new El Paso Unit 37 on behalf of President Tom Dwyer and all the officers of NARVE.