Harlingen, Texas was Chartered as NARVRE Unit #64 on August 24, 2014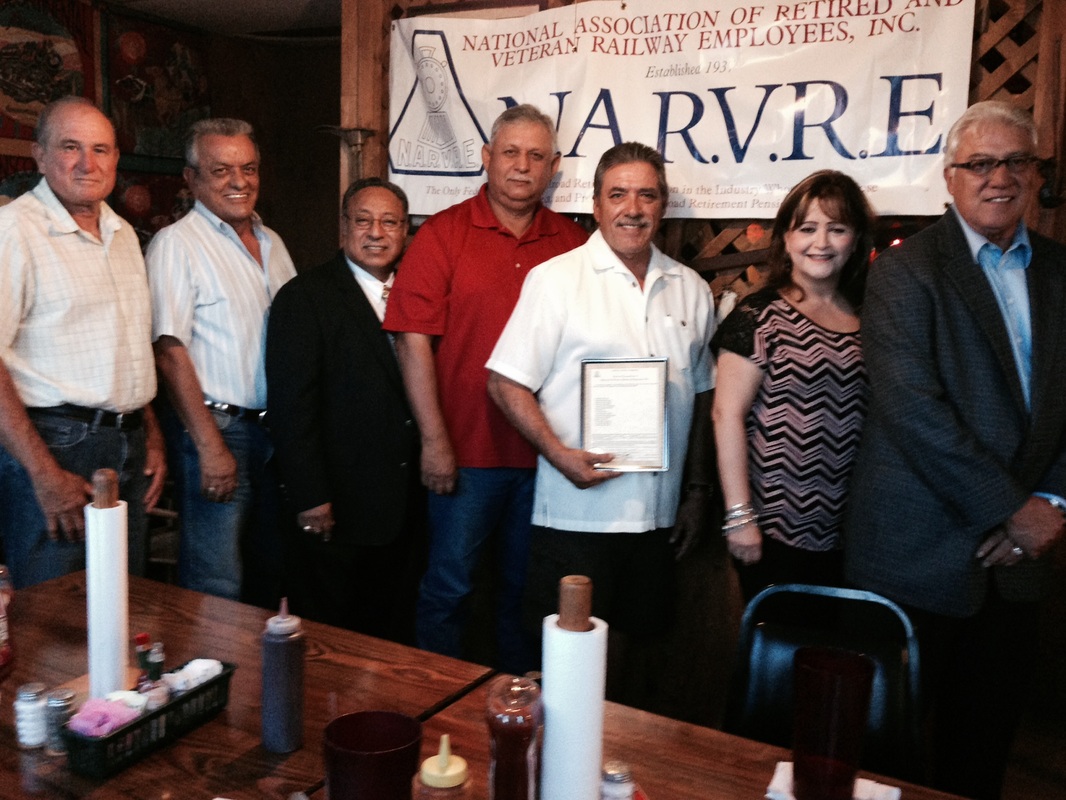 Joe Atkinson Chaplin, Robert Escobedo L.Rep., Tony Padilla N.V.P., J.R. Abrego V.P., David Gonzalez President, Aida Gonzalez Secretary-Treasurer, and G. G. Gonzalez Area 5 Director—Presentation of the official Federal Charter to the new NARVRE Harlingen, Texas Unit # 064.
Area Director G. G. Gonzalez organized a new NARVRE Unit #64 in Harlingen, Texas.  The above picture captions the new officers as National Vice President Tony Padilla congratulated the new officers.  His remarks included the history of Railroad Retirement and talked about the importance about making sure that their current railroad retirement pension is secured for the present and future railroad retirees.  NARVRE's mission is to protect railroad retirement against forces in Congress that try to weaken the Railroad Retirement Annuities that retirees enjoy pointing out the sole purpose of NARVRE to preserve, protect, and promote the security of their Railroad Retirement Pension.  "Harlingen makes History as this new unit becomes the first Unit organized in the Southern tip of Texas where many "Snow Bird Retirees" travel to Texas during the winter months to a warm climate, said Area Director G. G. Gonzalez" as he also congratulated the new officers.   President David Gonzalez and the officers of the Unit formally  invites through this newsletter all railroaders and welcomes railroad retirees that may travel to South Texas or that live in the vicinity to attend and participate in the new Unit.  We had Doris Calvillo as a special guest from the Railroad Retirement Broad to speak and answer questions on issues affecting retirees.  Doris is real expert and is a regular guest to the Texas Railroad Retiree NARVRE meetings.  We sincerely thank her for her expertise and for the great job in answering many of the technical questions our members ask.
We continue to encourage all NARVRE Area Directors to try to organize new NARVE Units.  We are in a membership drive.  We together must make an effort to bring in new members especially from the following States:
There 519,542 retirees in the country receiving a Railroad Retirement Pensions. Texas has 33,362 retirees with a great potential for many more Units along with states as Illinois next in line with 32,399 retirees, Pennsylvania has 31,901 retirees, Florida has 28,598 retirees, California has 26,614 retirees, Ohio has 24,198 retirees, New York has 20,529, and Missouri has 18,558 retirees.  All these States have the potential for organizing many new units because they have the greatest number of Railroad Retirees not to mention other States with large concentrations of retirees.  The potential is there and some of the Area Directors should evaluate where the greatest numbers are in your area.  You the Area Directors have the expertise in your areas to make the contacts to reach out to new members and organize new NARVRE Units.  The task is yours to protect, preserve and promote our NARVRE organization.  The challenge to increase our NARVRE membership and create new Units is, to lobby the U.S. Congress to Protect and defend our Railroad Retirement Pension when they attempt to weaken your pension.  We work in coalition with all rail unions although we no longer are under a collective bargaining agreement except maybe for Health and Welfare.
We have two Area Director Vacancies that are part of the Governing Board of NARVRE.
1.            Area 6 Director entails managing the States of Colorado, Kansas, Nebraska, North Dakota, South Dakota and Wyoming.
2.            Area 8 Director entails managing the States of Arizona, California, Nevada and Utah.
The Duties Consist of 1) to establish new Units; 2) stay in touch with established Units; 3) be a good salesman and public relations person; and 4) use common sense when working with others.  An Area Director's job is to communicate with the National Office and the local Units, you are a member of the Governing Board which is responsible for implementing the policies of the National Association between Conventions and all Area Directors must keep in touch with the National Vice President  and inform him of activities in his/her area.  There are other duties as an Area Director that will be explained once a candidate is approved. If you are interested please call or e-mail me at H-523-8465, Cell-512-552-8703, tonypadillatcuiam@austin.rr.com.  You can also call President Tom Dwyer at H-763-757-1501 or Cell 763-360-1570 E-mail Tdwyertcu@aol.com.  Anthony (Tony) Padilla National Vice President of NARVRE
---
Help keep Social Security Works strong! 
With Social Security and Medicare under renewed threat from Tea Party extremists in Congress, Senate Majority Leader Harry Reid, House Democratic Leader Nancy Pelosi, Senator Elizabeth Warren, Congressman Bruce Braley, other members of the House and Senate, the Koch Sisters, seniors from across the country, advocates for seniors and other concerned Americans will hold an event this Thursday, September 18th in Washington, DC to tell the GOP: "HANDS OFF Social Security and Medicare – We Earned It!". 
Social Security is Tier 1 of Railroad Retirement

and we all fall under Medicare at the age of 65.  Do not weaken our Social Security or our Medicare by raising the qualifying age to 67 or voucher the programs with coupons to negotiate our health care with the health insurance companies.
  See the comments on the Video.