Happy Rails UNIT 138 ALBUQUERQUE & BELEN, NM April, 2013
MEETING SCHEDULE
Apr. 11
Meeting at Town House Restaurant, 9018 Central Ave., SE in Albuquerque .
Eat at noon, meeting at 1:00 P.M.
May 05
Last day to make reservations for the Belen luncheon.
Please call Marie Barnes at 505-864-45623 or Ruby Waggoner at
505-864-8785 in Belen.
May 09
Lunch and meeting at First United Methodist Church, 75 Manzano Expy., Belen, NM (Rio Communities). Eat at noon, meeting at 1:00 P.M.  Menu: Meat loaf.  Donation: $8.50 Reservations are needed.
Jun. 13
Meeting at Town House Restaurant, 9018 Central Ave., SE in
Albuquerque.  Eat at noon, meeting at 1:00 P.M. 
 For any corrections, comments, submissions or change of address
contact:
Marie Barnes 713 N. 11th St Belen, NM 87002-2905 Belen, NM 87002-0966
PH: (505) 864-4562 e-mail: mbar@q.com
or
Ruby Waggoner 118 Vista Del Sol Dr. Belen, NM 87002-0966 PH: (505) 864-8785 e-mail: rubyjalin@aol.com
or
Ron Russell  5155 Levy Ct., NW, Albuquerque, NM 87120-1152  PH: (505) 836-3733
e-mail: rmrwyaq@yahoo.com
HAPPY BIRTHDAY TO ALL WHO HAVE A BIRTHDAY IN APRIL
John Barnard, Barbara Elwood, Francisco Gonzales, Pat Hunter, Henry Kendall, Peggy Tolson
TO THOSE COUPLES CELEBRATING ANNIVERSARIES IN APRIL
Clifford & Nettie Jones
WHEELS MUSEUM IS HAVING ITS GALA HONORING THE MAYOR, WITH DINNER, ENTERTAINMENT ON APRIL 20. TICKETS HALF PRICE FOR NARVRE MEMBERS AT $50 EACH. PLEASE CALL LEBA AT 243-6269. WE HAVE SO MANY NEW EXHIBITS AND WOULD LOVE  TO HAVE YOU ALL THERE.  THANKS. 1100 2nd SW ON THE RAIL YARDS
IMPORTANT ALERT! March 3rd, 2013
There  has been an address change at Met Life when it comes to filing claims for survivors benefits such as the $2,000 for retirees and $10,000 for active employees.
This Group Policy only pertains to scheduled (unionized employees) and not management employees. We have found from time to time benefits being paid under  this policy to beneficiaries who may have been listed years ago but are not the survivor of record.
This can happen if a worker had a previous marriage, a parent who was the original beneficiary or some other relative at the time. Data privacy laws prohibit the insurer (Met Life) from divulging who any claim may have been awarded to from years back. Travelers insurance was the provider prior to 1996. The bottom line
here is to make sure your beneficiary is up to date. That is your
responsibility. 
Forms can be obtained from the following address: Met Life Group Life Claims Record  Keeping P.O. Box 6100 Scranton, PA 18505-6100 (NEW) Telephone: 1 (800) 310-7770 When calling use Option One (Record Keeping) for service. Those seeking a Beneficiary Designation Form must contact the following address to get a form. This address is only to obtain a form not to file a claim.
Metropolitan Life Insurance Company Life Services/Record Keeping P.O. Box 14401 Lexington, KY 40512 1 (800) 310-7770 To File a claim you need to call 1 (800) 310-7770 and hit the first prompt to talk to a Claim Representative on the $2,000 Retiree Benefit or $10,000 for a active employee. You will need to provide a death
certificate of the deceased in order to file the claim. 
From: NARVRE, Legislative Office
---
NARVRE Area 5 Director Tony Padilla will be presenting the official Charter for El Paso Unit 37 on March 13, 2013 at 11:00am
at the El Paso Tx Windham Hotel Airport.
President – Ernie Mendoza – 915-525-6618
Vice President – Enrique Suarez – 915-588-4078
Secretary-Treasurer – James D. Werner- 915-667-2900, jwerner1@elp.rr.com
Legislative Rep. – Albert Napoles – 915-845-1123
As of today the monthly
meetings will be held on the 2nd Wednesday of the month at the Wyndham Airport
Hotel in the Orchid room at 11am.
---
abq and belen nm unit 138 news letter by api-167123914 on Scribd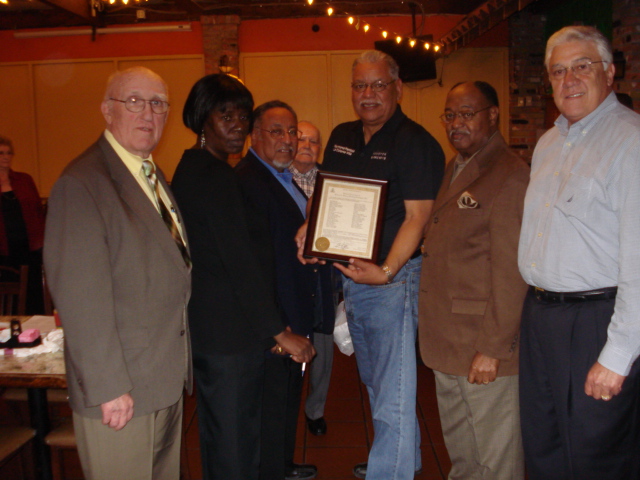 Update:  Charter was presented on February 5, 2013.
From Left to right: Ttl.Pres. Tom Dwyer, Sec/Tre. Cheryl Chambers, Area 5 DirectorTony Padilla, Pres. Raymond Pantoja, VP Marlin Phillips, Leg.Rep. G.G. Gonzalez Jr. 
Houston Unit 187 Meets on the first Tuesday of the Month Secretary
Pam Sackett pgsackett1250@hotmail.com;
It is with great pleasure to report a great success in establishing a new Unit # 187 in Houston, Texas on August 8, 2012.
Informational Meeting was held with a great group of retirees organized by now President of now Unit 187 Raymond Pantoja and first contact IAM member Marlin Phillips who is now VP, was established. Attendance at the meeting were about 250 railroaders and guests. After making the informational dialogue
on Railroad Retirement by President Tom Dwyer, Area 5 Director Tony Padilla and Representative of the Moody Law Firm and Legislative Representative from Ohio who was the former National President Whitey Westphal, Tony Padilla called for the formation of a NARVRE Unit in Houston for temporary officers and it was done.
Applications for membership submitted were 11 single members and 25 couples to equal a total of 61 new members to Charter the Unit. We congratulate the officers and members of the new Unit. The New officers elected are as follows:
Names and addresses : Unit 187
President Raymond Pantoja
1009 Richelieu
Lane
Houston, Texas 77018
832-350-5144
Vice-President
Marlin Phillips
7725 Sterlingshire
Houston, Texas
77016
713-553-9534
No e-mail yet
Secretary/Treasurer Cheryl Chambers
5519 Cypressgate
Spring, Texas 77373
281-788-4928
cechamb@gmail.com
Legislative Representative G. G. Gonzalez Jr.
18331 Forest Elms Drive
Spring, Texas
77388
281-355-7434
gggonzalezjr@sbcglobal.com